If you're looking for the best Fortnite Girl Skins. In this blog post we'll be taking an up-close look at some of our favorite Female Fortnite skins available now as well as digging into what makes them stand out from the rest.
Character skins are one of the best parts of playing Fortnite. 
Having a cool skin not only looks awesome but also is a great way to show your unique style and gaming personality to other players. 
And when it comes to girl characters in particular, there's definitely no shortage of amazing skins for female avatars. 
In fact there are hundreds of them available. 
I'll be honest, I prefer the female versions more than the male versions most of the time. 
Interestingly it's not just female players that enjoy using girl skins in Fortnite. Many male players use them as well. It makes sense the model is smaller so able to hide better and also allows you to see around it better. 
Below is a list of what we feel are the best Fortnite girl skins. We've also included what are our best themed female skins such as Marvel, DC and others. 
This is based on our own personal opinion, as well as taking other players' thoughts through several surveys. 
Best Female Fortnite Skins
Here we have 6 of the best girl Fortnite skins. 
1. Fable
Back in September 2018, we saw the launch of Season 6 and with that a brand new Battle Pass. Fable was a part of the Red Riding Set, which you could unlock at Tier 47. 
This set featured the skin as well as cosmetics, all of which was based around Little Red Riding Hood. 
The detail on this skin is excellent and you can see that this skin is not based on a scared Little Red Riding Hood. In fact it looks like she hunted the wolf herself, from the fur on her hip. 
I like this skin due to the detail that's been put into the outfit. The hair has also been stylized really well. 
Unfortunately this skin has not been seen since December 2018. Since it was a part of the Battle Pass, it's very unlikely that we'll see it again. 
2. Red Knight
With certain POI's in Chapter 4 looking very medieval (The Citadel, Anvil Square), the Red Knight skin fits perfectly. 
I'm a big fan of fantasy/medieval RPGs, so this girl skin is right up my street! 
The Red Knight skin was originally released in December 2017, it was a part of the Fort Knights set. 
Even though it launched back in the very first season of Fortnite, it's still a regular on the item store. In fact on average it's in the store every 37 days. 
If you do want this skin, it's going to set you back 2,000 V-Bucks. Well worth it if you ask me! 
3. Lynx Skin
There are a lot of skins that are in demand and the Lynx skin is one of them. Unfortunately as it was in the Battle Pass back in Chapter 1, it's very doubtful that it'll ever return. 
I've personally never seen anyone wearing this skin. I'm glad as well, as it'll just make me wish I had it even more. 
This is one of those skins that has a couple of different styles and colors. There were four colors in total. With the style, you'd start off as a normal character and as you got equipment, it'll become the Lynx. 
I still see many people in Fortnite groups, talking about this skin and wishing they had it. So if you're reading this and you have it…I'm super jealous. 
4. Calamity
Calamity is another female Fortnite skin that could only be obtained through the Battle Pass. This one was released back in Season 6 of Chapter 1. 
The skin itself has a very western feel and evolves over time. 
So initially it is a fairly basic skin. As you level through the Battle Pass, you unlock features to make it look even better. 
This includes a pretty cool looking cowgirl hat and the long trench coat. 
Not only that but you could complete different challenges to unlock different glow effects to the skin. 
If you didn't get this back in Chapter 1, it's doubtful you'll see it again. 
5. Selene
Back in December 2022, you could have gotten Selene from the Battle Pass. 
This was a skin that was rewarded just by having the pass, so you didn't need to spend any Battle Stars. 
One of the things I really like about this female Fortnite skin is the hair. The green at the front and the pink on the back just looked cool. 
It certainly went with the style of the last season but to be honest, I can also see it fitting well with the current season. (Chapter 4, Season 2).
Selene did have the Moonglow style which you could unlock on the 2nd page of the Battle Pass. 
It does look decent but, personally I prefer the standard Selene skin. 
6. Rustler
If you like the western/cowboy look but missed out on Calamity, Rustler might be a good alternative. Originally released in 2020, it was recently available on the item store and should return again in the next few months. 
Generally I think the skin just looks decent, I think it suits well with the current theme of the Season and there's a decent amount of detail. 
The gun on the hip, bullets on the belt and clip on the shoulder just shows that the Rustler is not messing about.
Rarest Girl Fortnite Skins
7. Black Widow Outfit
Back in 2019, the Avengers set came to Fortnite and was one of many Marvel skins. This was in Chapter 1, season 8.  Since then, it's not been available again. 
It was the first of the Marvel skins and was released with the Avengers Endgame movie. The skin came with other cosmetics such as Widow's Pack, Widow's Bite pickaxe and a pretty cool emote. 
When the Black Widow skin was available, it could have been bought from the store for 1,500 V-Bucks. 
Since it's not been seen in the item store for over 1400 days, it makes it a pretty rare fortnite skin.
8. Hazard Agent
I like female skins that are different and unique. 
The Hazard Agent skin sure is that! It's not been seen in the item store for over 1000 days, so this makes it pretty rare. 
It was originally released in 2018 during Chapter 1, Season 4 of Fortnite. 
The last time it was seen was in 2019, so there is every possibility that it might make a return soon enough. 
I am surprised that this skin didn't make an appearance during the Invasion season, since it does fit nice with the whole alien theme.
Or saying that, it would have been pretty cool rocking this skin whilst playing Imposters game mode. 
Originally just the one color was available, however in 2019 they did release the yellow version of Hazard Agent. 
9. Renegade Raider
One of the rarest Fortnite girl skins is Renegade Raider, I've not seen anyone rocking this outfit. 
The only people that have this skin are those that played Chapter 1, Season 1. It was part of the Storm Scavenger set and could be purchased from the item store for 1,200 V-Bucks. 
Although that was only once you reached level 20
The Renegade Raider has never made an appearance to the item store. Since it's never returned, I'd be very surprised if it ever does in the future. 
You can guarantee, if you see someone using this skin they're probably a decent player. 
10. Sofia
The Sofia Fortnite skin is fairly rare as it has not been seen in store for over 700 days. It was launched back in Season 9 of Chapter 1. Sofia was launched as part of the John Wick set (Which is also incredibly rare)
I personally like this skin a lot, even though it's fairly simple. She looks like a pretty badass assassin. At the same time, since she wears all black, it makes it a bit easier to keep hidden from other players. 
11. Reef Ranger
Back in Chapter 1 Season 5 Epic brought out the Reef Ranger Skin. This scuba diving skin is a fairly rare girl's fortnite skin. It's not been back in the store for over 650 days. Looking back at the history, I cannot see it coming back for another 600 days. 
There are not many skins where the face is covered, so it does make it fairly unique. Like Sofia, I like the fact that it's fairly simple and dark in color. Perfect for hiding away from other players. 
A male and female fortnite skin was launched at the same time, you could get the Divemasters set for 1,500 V-Bucks. I do prefer the female version of this skin. 
12. Nara
Nara could be considered a rare fortnite skin, since it has not been seen in nearly 700 days. It was originally released in Chapter 1 Season 6, on the 25th of November. 
Nara was a part of the Storm Familiars set and could be purchased from the store. It would only cost you 1,500 V-Bucks. 
Since it's a store skin, there's a very good chance that it'll return to the store again sometime in the future. 
With Season 2 in Chapter 4, there are some oriental/japanese style POI's. This could make a perfect entry point for Nara to make her return. And I think a lot of players would be very happy to be able to get this skin. 
13. Takara
Another skin that is pretty rare and I think could make a great addition to the current season is Takara. 
It's not been seen for around the same amount of time as Nara, so I could imagine seeing them both hitting the store together very soon. 
Takara was launched back in Chapter 1, Season 9. When it was launched in May 2019, it was a part of the Takara set. 
Overall it's a great looking set and to say it's been nearly 700 days since its last been in the store, this makes it fairly rare. I also don't think I've seen anyone using this skin.
Best Marvel Female Skins in Fortnite
Over the years, Marvel has done some great collaborations with Fortnite. With these collaborations, they've introduced some excellent female marvel characters onto Fortnite island. 
Below are what I think are the best Marvel female skins in fortnite;
14. Spider Gwen
Out of all the Marvel films, Spider-man is one of my favorites. Spider-Gwen has great looking skin. It's one of the best Marvel female skins but is also fairly rare now. 
You could only get the skin via Battle Pass, and you had to get to Page 10 of the season. 
Since it's a Battle Pass reward, you're not going to see it in the store anytime soon. Unless Epic brings out a new version of the skin to Fortnite. 
Luckily there are a few new Spider-Man films coming out, so there could be a chance of getting your hands on it again. 
15. Mighty Thor 
With the release of Thor Love and Thunder we saw a new Marvel set come to Fortnite. This one featured Jane Foster as the Mighty Thor. 
If you like using female skins in fortnite, then this would be a great addition to your collection.
What's even better is that it was available at the item store, so you're likely to see it again if you missed it. 
The Mighty Thor theme was released in Season 3 of Chapter 3.
16. Dark Phoenix
Looking to add another superhero skin to your collection? The Dark Phoenix would make a great addition. This is also a female fortnite skin that looks great! 
It was added to Fortnite back in Season 8 of Chapter 2, this was around November 12th 2021. Dark Phoenix was a part of the Phoenix Force set and was available on the item store. 
Dark Phoenix was last seen at the start of March and before that in January. It is often in the item store every 3 months or so. 
17. Black Widow Snowsuit
We've already seen one Black Widow skin on this list of best Fortnite girl skins, here we have another one. 
The Snow Suit version of The Black Widow came out on November 15th, 2020 and has been seen quite a bit on the item store. In fact it was even seen at the start of March. 
Since this skin has been released, it makes it even more less likely that the original Black Widow skin will become available. 
This makes it even rarer. 
18. Scarlet Witch
The final Marvel female fortnite skin in our list is Scarlet Witch. This one was launched during Season 2 of Chapter 3. This was on May 6th 2022. 
This skin formed the Scarlet Witch set, which included other cosmetics and emotes. 
As the skin was available to be purchased on the item store, you can be sure that it'll make a reappearance
Personally I'm not much of a fan, but I know a lot of players that love this skin. For only 1,500 V-bucks, it's worth getting. 
Best DC Female Skins in Fortnite
As well as Marvel, DC have also done some collaborations with Fortnite. Some of my go to skins are DC heroes such as Batman or The Flash. 
You'll also be able to find some excellent DC inspired Female Fortnite Skins. 
19. Harley Quinn
The Harley Quinn Fortnite skin launched as part of the Gotham City set. 
This is one of my favorite hero female skins and I think it's the same for many other players. I've seen many players with this skin. 
The outfit, pigtails and color of her hair, really makes this skin stand out. 
This female skin was released Feb 2020, during Chapter 2 Season 1.
The skin can be purchased from the item store. When it launched, it cost 1,500 V-Bucks. You could get a full bundle with other cosmetics for 2,000 V-Bucks. 
You could also upgrade this skin with the Always Fantabulous style. This was done by completing 3 Harley Quinn quests. 
To be honest, I preferred the standard skin over the extra one. 
There's also the Rebirth version which is a purchasable DLC
20. Wonder Woman
Diana the Amazonian warrior has joined Fortnite island. And to be honest, it's a great looking female fortnite skin. 
The Wonder Woman could be purchased from the item store for only 1,600 V-Bucks. It was released in August, 2021. This was during Season 7 of Chapter 2. 
Along with the Wonder Woman skin, you could also get the Bracelets of Hephaestus emote. Not a bad emote, could be used as a Victory emote but not really any other time. 
Unless you're showing off emotes in the lobby.
21. Catwoman Zero
During Chapter 2 Season 6, Batman was a key POI on the island. 
It was at this point that the Batman Zero Point set had been released. 
One of the skins added was the Catwoman Zero fortnite skin.  
Catwoman Zero is a great Fortnite female skin. There's little distractions on the skin such as large hair/outfit. Which gives you a better view of what's in front of you. 
I also like the fact that it's all black, which makes it very easy to hide in the shadows. 
The skin was released May 19th 2021 and has not yet been since. It may make an appearance again as it was purchasable from the item store at only 1,200 V-Bucks. 
22. Rebirth Raven
One of my favorite DC Female skins in Fortnite is Rebirth Raven. I love the dark style of the skin and the two toned hair color. It looks a bit like a combination of Catwomen and Harley Quinn. 
There are three styles to the Rebirth Raven skin. The default one, which to be honest is my favorite. Raven Classic which is more of a purple color and then Rachael Roth, all of which look pretty decent. 
Rebirth Raven was released in Chapter 2, Season 6. This would have been March 16/17th 2021. 
Now for the bad news… Since it was a reward in the Battle Pass, I doubt you'll see it coming back anytime soon. You "might" see a variation of it in the future in the item store if a new series or film of Teen Titans comes out. 
23. Poison Ivy 
The last DC female Fortnite skin on the list is Poison Ivy and it's very rare to see anyone rocking this skin during a Battle Royale. 
Not because it's not very good but just because of the cost to get it. 
You could only get this from the Last Laugh Set that also featured The Joker. This set did cost $30, which may have put a lot of people off. 
The Poison Ivy skin is not one that I would initially go for. I can imagine sitting in the trees using this skin and being a little bit more hidden with it being all green.  Wish I had this skin now to try and give that strategy a go!
Best Female Gaming Legends in Fortnite
24. Arcane Jinx
Seems strange to be able to play a legend from another game in Fortnite but you can. In fact there are quite a few gaming legend skins. 
Jinx from Arcane: League of Legends is certainly one of my favorite Fortnite Girl Skins. 
Unfortunately it's been over 400 days since it hit the item shop and it's certainly one that I wished I managed to get back in Chapter 2 Season 8. 
I've only seen it a couple of times in-game, so it's pretty rare. 
I loved the TV series on Netflix and think the character is portrayed brilliantly in this skin. 
Personally I think it's one of the more unique looking skins to hit Fortnite. 
25. Lara Croft
Lets face it, if you're going to do a series of skins of gaming legends and you need female skins then Lara Croft has to make an appearance. 
She is afterall one of the most iconic gaming characters. 
Back in Chapter 2, Season 6 was known as Primal. This was therefore a perfect season for Lara Croft to join the island. 
The downside? She was rewarded for hitting Tier 15 of the Battle Pass. So it's unlikely we'll see this version of her return. 
Perhaps in the future we might see an alternative style of her skin.
26. Aloy
Aloy from Horizon was originally released in Chapter 2, Season 6. However unlike Lara Croft this one was purchasable via the store. In fact it was available in store just a few days ago from the point of writing this. 
I've not personally played Horizon so I'm not familiar with this character, but I have to admit it looks great. 
The skin has plenty of detail and really suits that primal/tribal vibe. 
Now if you're a stealth player that likes to hide and pounce on your enemies, this might not be the best option. It could potentially stand out compared to some of the other female skins in this list. 
27. Eivor Varinsdottir
The final best Fortnite girl skin in our gaming legends list is Eivor Varinsdottir. She joined the island back in April 2022, during Chapter 3 season 2. 
This season we saw a war between the Seven and the Imagined Order. I'll be honest, I'd prefer Eivor to be on my side than against me. 
She does look pretty scary with those axes. 
If you're a fan of the viking look and feel then you'll love this skin. 
Best Anime Fortnite Girl Skins
Personally I'm not the biggest fan of the Anime Fortnite skins, I think they tend to stand out too much against the level design. Having said that, a lot of people do like them, so it makes sense to include some of the best. 
28. Lexa
The first Anime Fortnite Girl Skin we have in the list is the Lexa skin. This Epic skin was launched back in Chapter 2, Season 5. It was a part of the Y-Labs Hunter set and could only be obtained from the Battle Pass. 
You needed to get all the way up to Tier 73. A feat that some players are not able to reach. 
Lexa has a couple of styles and additional colors, however you're only able to change style by using her built in Emote. 
Overall, the Lexa skin is a fantastic choice for any Fortnite player looking to add a touch of anime-inspired style to their gameplay.
29. Erisa
Looking for a Fortnite skin with different styles to choose from? Look no further than the Erisa skin. Not only does she come with six styles, but there are also extra custom options to toggle her cape or helmet on or off, making for endless combinations to fit your style.
It's worth noting that these additional styles were only unlockable by advancing further through the Battle Pass, adding a sense of exclusivity to this unique skin.
Erisa was introduced as part of the Wish Guardian set, available exclusively as a reward for the Chapter 3, Season 2 Battle Pass. Unfortunately, this means that she won't be making an appearance in the in-game shop anytime soon.
So, if you're looking to stand out from the crowd and add a touch of personality to your gameplay, the Erisa skin is definitely worth considering.
30. Lennox Rose
Lennox Rose is one of the more recent anime-inspired skins, as she was in the Battle Pass for the last season. At the point of writing this. 
In order to unlock her, you need to unlock page 6 of the Chapter 4, Season 1 Battle Pass. She was launched as part of the Lennox IRL set and has some a couple of nice styles. 
But that's not all – Lennox Rose also boasts a range of stunning cosmetics, including the eye-catching Magnorepulsor Board Glider. As a fan of board-style gliders, I can vouch for the coolness factor of this particular cosmetic.
31. Sakura Haruno
No list of the best Anime Fortnite girl skins would be complete without at least one nod to the Naruto franchise, and the Sakura Haruno skin is an excellent choice.
Released back in November 2021, this skin quickly became a fan favorite, with lobbies full of players showing off their new Sakura Haruno skin. While the hype may have died down a bit since then, you can still spot this iconic skin in the game from time to time.
One of the best things about the Sakura Haruno Fortnite skin is that it was purchasable from the Item Shop, making it easily accessible to any player looking to add it to their collection. And even better news – since it hasn't been seen in nearly 5 months, there's a good chance we'll see it make a comeback in the near future.
So why not channel your inner ninja and add the Sakura Haruno skin to your Fortnite wardrobe? You'll be joining the ranks of countless other players who fell in love with this iconic character and her signature pink hair.
32. Zoe Clash
Zoe Clash is a unique addition to the world of Anime female skins in Fortnite, as she's not based on any existing anime franchise. Instead, Epic Games created her in an anime style, much to the delight of many players.
When Zoe was first released in Chapter 3, Season 2, she quickly became a popular choice for players looking to stand out from the crowd. Unlike other skins, however, Zoe wasn't part of a Battle Pass or available for purchase with V-Bucks. Instead, players could add her to their collection for the low price of $3.99 as part of the Mainframe Break Pack. This made her an easily accessible and budget-friendly option for players.
While Zoe may not have the same level of recognition as some of the other skins on this list, her unique look and affordable price point make her a great choice for any player looking to add an anime-inspired touch to their Fortnite experience.
Best Star Wars Female Skins in Fortnite
The last list of Best Fortnite Girl Skins is from the Star Wars franchise. Over the years there has been a number of skins made for Star Wars, the most popular being Darth Vadar and The Mandalorian. However, the female skins are also highly sought after. 
One I would love to see in the future is Ahsoka Tano. Hopefully this will make an appearance when the new series comes out. 
33. Rey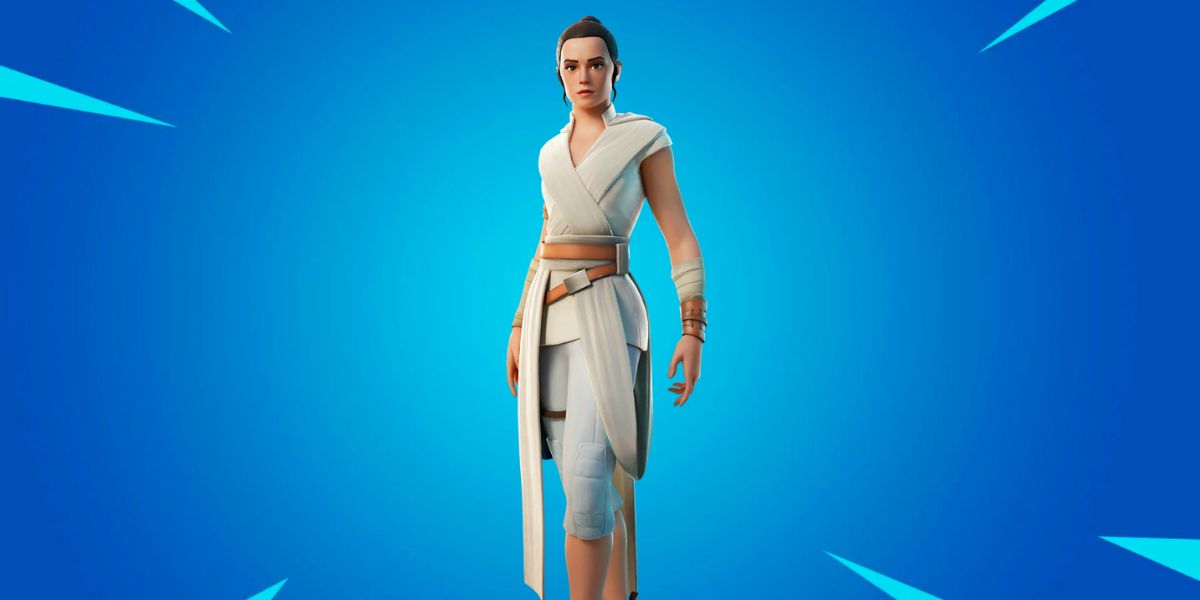 She may not have been everyone's favorite character in the new Star Wars films, Epic did a great job with the skin. 
It's got some great details and I love the fact that it's very simplistic in design. 
The Rey skin was released December 2019, this was during Chapter 2 Season 1. You could purchase the skin from the item shop for only 1,500 V-Bucks. 
I've seen people running this skin quite a bit recently. This might be because it was back in the store just a couple of months ago. If you do see it again, I'd recommend getting it. It doesn't come in the store too often. 
34. Leia Organa
One of the most Iconic Female movie characters has joined Fortnite. With the release of the Original Trilogy set in November 2022, you could get your hands on the Leia Fortnite Skin. 
I wouldnt say it's the most popular as I don't think I've seen anyone using this set. Although if you're a fan of the original Star Wars then you should get this skin. 
This skin was launched in Season 4 of Chapter 3 and could be purchased from the Item store for only 1,500 V-Bucks. 
It was back in the store a couple of months back with some other Star Wars skins. Well worth keeping your eyes on the store from when it comes back. 
35. Fennec Shand
With the launch of the series Book of Boba Fett, it was only a matter of time that we'd see Fennec Shand in Fortnite. 
I love how detailed Fennec's armor is, you could certainly use it to your advantage to hide from any oncoming enemies. 
The Fennec Skin could be purchased from the item store when it was released in Chapter 3, Season 1. It even came with a nice back bling, although it would have been nice to have a few more cosmetics. 
Final Thoughts
The best Fortnite girl skins offer something for everyone, no matter what kind of look you prefer. 
Whether it's a cute and colorful design or an edgy and powerful one, there are plenty of choices to pick from. 
From the classic Black Widow outfit to the sought after Calamity skin, these stylish ensembles will help you stand out on the battlefield. 
As with any game, finding that perfect combination of style and power can be difficult – but not impossible! 
With our list as your guide, we hope you find just the right look for your next battle royale match. 
Good luck!